Donor-Advised Fund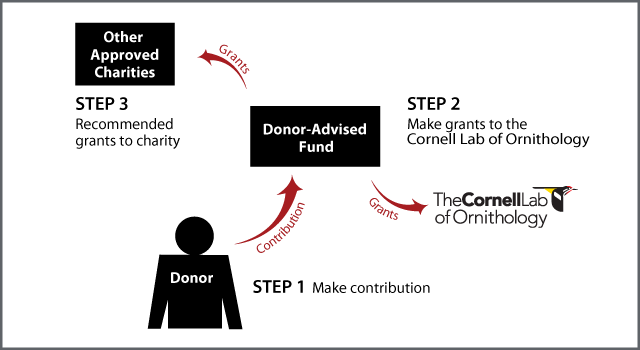 Thank you for considering a gift from your donor-advised fund (DAF) to support the Cornell Lab of Ornithology. Because the Cornell Lab is a unit of Cornell University, we share the university's tax ID number: 15-0532082. Many donor-advised funds therefore don't list the Cornell Lab of Ornithology as an entity. You can request that your donor-advised fund make a gift to Cornell University "for benefit of the Lab of Ornithology." Cornell will receive and process your gift and see that the funds are routed to the Lab of Ornithology. We receive funds in this way regularly.
Your DAF administrator will typically mail the check to the primary address they have on file for Cornell, or they may send your gift electronically. In either case, please remember to request "for benefit of the Lab of Ornithology" and let us know about your forthcoming gift so that we may ensure it is properly designated by emailing labgifts@cornell.edu with the following information:
Name of your DAF administrator
Amount of your gift
Date you requested the distribution
If your DAF will make a gift directly payable to the Cornell Lab of Ornithology, it can be mailed to our address:
Cornell Lab of Ornithology
159 Sapsucker Woods Road
Ithaca, NY 14850
If you have any questions, please feel free to email Liz Kinast at labgifts@cornell.edu or call 607-254-2471.
More Information
© Pentera, Inc. Planned giving content. All rights reserved.
Disclaimer